Leading Youth Ministry Through Lockdown
How restrictions in youth ministry can push us towards improvement
On a rainy Saturday afternoon, as another wave of restrictions and guidelines began to take effect in the city where I live, I found myself channel-hopping for something interesting that would help pass the time. I stumbled across a programme about renovating and restoring worn-out period properties and transforming them into incredible family homes.
At the point where I joined the programme a couple, who had begun a transformation project on their home, were sharing their experience of having the plans for an extension to their house rejected and then revised by the authorities. They talked of their disappointment when they discovered that their plans were not going to work out as they hoped. An architectural drawing of a simple, squared-off, full-width extension to the back of their home was flashed up on screen before then showing the revised plans. They lost a chunk of the left corner of the extension, leaving them with a strange-shaped indent into their otherwise 'normal' design. It was as though a couple of Tetris blocks had perfectly aligned and then disappeared from the left-hand side of their house.
The interesting thing in this otherwise very mundane story is that at the end of the programme, when the finished product was revealed, George Clarke, the host of the show, said something that caught my attention. Speaking from his experience of renovating buildings and knowing what it's like to have your plans rejected and revised he shared that often those frustrating setbacks and imposed restrictions on your plans end up improving the final plan and can often become a favourite aspect of the house – a place where restrictions are met with creative ingenuity to make the best of the circumstances.
Recently, as I reflected on the last few months and the impact of the Coronavirus restrictions on leading and on youth ministry, I was drawn to think about the idea of limitation. This has been a period of recognising our own limitations and also working within a framework of externally imposed limitations that have often de-railed or upset personal or organisational plans. Over the last number of months, people, organisations and whole industries have suffered immense and painful loss and disruption. It is important and healthy to recognise, acknowledge, and process those losses appropriately and well. At the same time, over the past months, I have also wondered whether – in some situations – the setbacks, restrictions, and limitations placed on our plans may, in fact, push us towards improvement – perhaps even bringing us to a new set of plans that we will value and cherish in the long run.
In my own context, serving in youth ministry in a church in Belfast, I think that I have begun to experience some of this taking effect in small ways over the last few months. As established programmes, routines, and rhythms were quickly stripped away I was very aware of my personal limitations and of a sense of restriction limiting how we could serve young people, but I also observed a handful of changes that have brought encouragement and which will be valuable to take forward in the long run.
A few of the things I have noticed have included:
Placing an increased emphasis on supporting, resourcing, and encouraging parents for discipleship at home (where this is appropriate): Lockdown brought a helpful reminder of the limitations of youth ministry involvement in a young person's life. Youth ministry, of course, plays a vital and valuable role in supporting the discipleship of young people and enabling them to participate in a faith community, however for many the most significant influence on their discipleship will be their family environment and how their parents model following Christ. Where this is the case, the restrictions have been a beneficial nudge towards developing this aspect of youth ministry with greater urgency and focus. Of course, for other young people, youth ministry may be their first or only connection with Jesus and so both approaches need to be held in tension and adapted on a person-by-person basis.
Encouraging young people to take greater personal responsibility for their own discipleship and involvement in the church community: At points where we were not able to facilitate gathering with others as regularly as we would have liked, the priority of resourcing and equipping young people to fuel and wrestle with their own faith throughout the week became all the more apparent, even though this has, of course, always been the case. It has also been interesting to observe that, even in a very practical sense, simple changes to programmes such as asking young people to bring equipment, resources and food (to reduce the need for shared resources) creates a subtle shift from attending an event to participating in a sort of 'family gathering' where everyone has some responsibility.
Making more effective use of the time we do have with young people: As programmes are condensed and opportunities to meet are reduced it has been a refining process of ensuring that when we do meet we prioritise what is most critical and most in line with achieving our overall purpose. In my context, we have found ourselves combining the most important and effective elements of various different programmes into one weekly in-person gathering at present. This is likely to result in significantly reshaping the landscape of what we do in the future and will perhaps create more space for other initiatives or creative use of new-found time. Perhaps one of the most beneficial long-term impacts of this period of restriction and limitation will be the rediscovery of the things that are most important.
Looking for ways to 'prioritise young people everywhere'(Growing Young, Fuller Youth Institute): As specific youth-orientated provisions may have temporarily reduced it is a helpful reminder that youth ministry happens everywhere that young people connect with a church – not only in dedicated programmes. As churches turned to solely online services for a period of months it was encouraging to see young people participate in and contribute to these in ways that they may not have normally done in an in-person service. The challenge may be building on and developing this as normality returns. Church services are, of course, only one point of possible connection with young people and we should work to explore how any and every point of connection with church family can be a better ministry to young people.
Aiming to maximise the impact of every youth leader: As we adjusted to create a more 'COVID Secure' environment for young people to meet together the restrictions and guidelines led us to decide to work with smaller groups of young people and leaders in 'bubbles' to reduce the potential of transmission. One of the real benefits of this has been increasing the impact of each youth volunteer through increased connection with and responsibility to a smaller group of young people. The opportunities for more effective relational youth work build each week they meet, and the leaders are resourced to facilitate their group with increasing freedom to adjust what they do to best serve the specific needs of the young people in front of them. In turn, this highlights the importance of and the need to invest in, train, and develop those who serve on the youth ministry team.
I appreciate that these are simple observations – some of which have been practiced by youth workers and churches for a long time, and some of which perhaps may be idealistic or difficult to effectively implement in the long run, particularly as life returns to normal and the potential for old habits and busyness creep in.
But for now, as things were stripped away and limitations were recognised and confronted, I have found this to be something of a helpful chance to refocus, to refine, and to rediscover what was always important but may have gotten a little lost in the busyness of keeping going. And I was struck by how setbacks, limitations, and restrictions force us to adapt, to find good compromises, to develop, to work harder, to be creative, and also to recognise the healthy boundaries of our own impact.
Perhaps, as George Clarke demonstrated so well, setbacks, restrictions, and limitations placed on our plans may in fact push us towards improvement – perhaps even bringing us to a new set of plans that we will value and cherish in the long run.
Written by Sam Crawford
Related stories
Article
 There was a phrase people got sick of during the many pandemic lockdowns:  '...
May 26, 2022
Article
How will you be different when you go back? This question from my spiritua...
October 6, 2021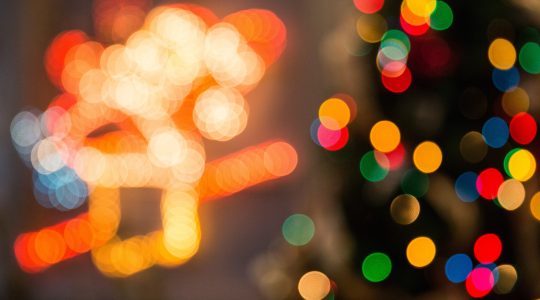 Article
Over the last few months I have been on a sharp learning curve. Leading in a ...
May 24, 2021